Our Story
At Forte Stone, picking out the perfect stone for your kitchen or bath is like walking down the candy aisle at the grocery store, a visual feast of every color and pattern: greens, blues, golds, and greys. Richly colored and textured, the stone is imported from quarries all over the world. With names like Kashimir Gold, Rainforest Brown Marble, Bianco Romano, and Siena Bordeaux, the many varieties of stone and marble will be sure to capture your imagination.
Rachel and John Tuttle founded Forte Stone in 2003 with the goal of supplying Santa Barbara's homes with the finest imported stone products. "We are really excited about our new line of soapstone" says Rachel. "The soapstone has a very different feel than the limestone or other selections. Its composition is more subdued and contains simpler color combinations, a more minimalist approach."
John and Rachel are proud to be personally involved in meeting the needs of each customer. From the moment you meet the Tuttles, it is obvious why homeowners and contractors keep coming back to Forte Stone.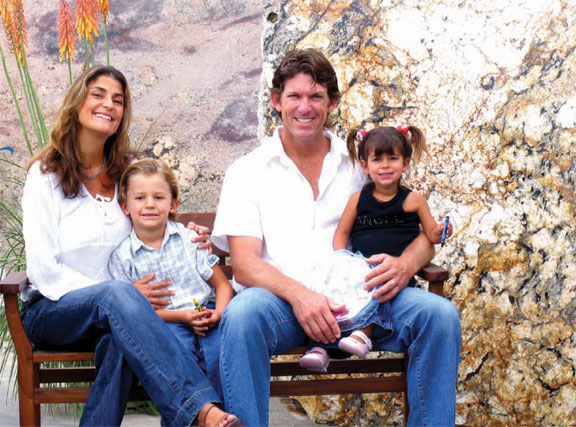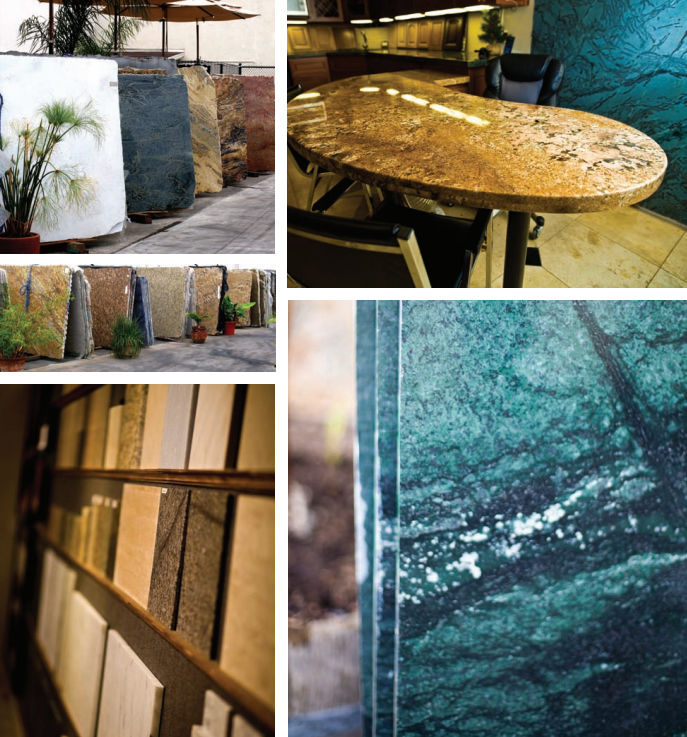 Strictly Local: A Rock-Solid Family Affair
By Martha Lannan, Goleta Valley Voice
Rachel Forte-Tuttle and John Tuttle got into the stone business thanks to a case of mistaken identity, and have made the most of it, establishing a company that supplies imported granite and marble up and down the Central Coast.
When they were in Brazil working out wedding details at a hotel, a Brazilian mistook John for a business contact he was supposed to meet, and engaged him in conversation about granite imports. John, with minimal Portuguese, and the businessman, who had limited English, eventually figured out that they had a couple of things in common even if John was the "wrong guy." John had a friend in Canada who worked with stone and the businessman was from the same town in Brazil that John's fiancé, Rachel, was from. The rest is history.
Forte Stone has been serving the region since 2003 and moved to the north side of Hollister just east of Los Carneros Road last summer.
The couple imports granite and marble, in a wide variety of colors and patterns, including greens, blues, golds and greys, directly from the source in Brazil, Peru, the Middle East and Italy, and sells wholesale to fabricators — contractors who cut and install the stone in homes, restaurants and offices. It's used for indoor and outdoor countertops, shower walls, bars and tabletops in commercial establishments and a number of other areas.
When the Tuttles say they're wholesalers, that doesn't mean they don't deal with individuals; in fact, that's what they do all the time. Home and business owners go to Forte at 6464 Hollister Ave. to see and touch specific pieces of stone and decide exactly what they want for their personal projects; the Tuttles then work closely with architects, contractors and designers involved with the project.
"People like to be able to see the variety of stone we have here," said John, who added they are always moving pieces around so people can see anything they want to, not just the pieces in the front of stacks of stone.
The couple travels internationally to see stone and continue expanding their circle of contacts. Rachel just recently returned from a show in Brazil. Shipments typically take 6-8 weeks to arrive from Europe and Brazil and 2-3 weeks from Peru, Rachel said. Italy and Brazil are considered the international hubs of the business.
Although Rachel's hometown is the most important producer of marble and granite in Brazil, her family was not involved with the stone business. Her father works in real estate and her mother was a longtime teacher.
John, from San Diego, is a graduate of Westmont College, where he was also a member of the school's soccer team. He has coached soccer at San Marcos High School and with Futbol Club of Santa Barbara.
Rachel, from Santo Cachoeiro de Itapemirim in Brazil, worked in the export-import business there, and came to Santa Barbara as an exchange student. The two met at Butterfly Beach. "I came for six months," she said with a smile, "and here I am, 14 years later." The couple's son, Kaio, is 4 ½, and their daughter Livia is almost 2.
Both of the Tuttles take pride in their business and work to ensure that their customers are happy with their decisions. They also strive to be more than competitive with larger suppliers.
"If we buy well, we pass it on," said Rachel, who noted she tries to give back all the good things she's experienced since she moved to the South Coast. "Our service is very personalized."
Santa Barbara / Goleta Marble & Granite Showroom
6464 Hollister Avenue, Suite 6
Goleta, California 93117
Mon-Fri: from 9:00am to 4:30pm
Saturday: from 10:00am to 2:00pm
Phone: 805-685-6202
Fax: 805-685-6204
sales@fortestone.com
Find Us
6464 Hollister Avenue, Suite 6 Goleta, California 93117